Fairhaven: Adventures
on a Sea Called Life
by Geoffrey M. Clough [author]
You are going to thoroughly enjoy this story of Fairhaven, a sturdy little ship making his way across the Sea of Life. He's pursued by enemies, tossed about by severe storms, and intrigued by unusual creatures who become his staunch friends. I think it has the universal appeal of the likable underdog triumphing over long odds and gaining friends who become family during the trip of Life.
BUY THIS BOOK NOW ON AMAZON – CLICK HERE!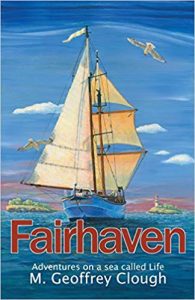 REVIEW:
The inanimate objects characters and the animal characters all have personalities. When reading, it feels like a cartoon with adventures and troubles and solutions. Geoff writes in a very readable and enjoyable style. The humor and the tragedies are easy for the young inquisitive mind to understand. The Navigator character is mysterious and then one finds out that it is Jesus. There is a very detailed map in the front cover area to show which islands the ships and animals go to and as one is reading, it is a nice reference to turn back to and see where they are. Don't miss out on this new book; it's sure to be a classic!
[Reviewed on Amazon by LEXUS 8/15/18]
.